Shared accounts
Shared accounts that make a difference
With the Lydia shared accounts, you can simplify the management of your expenses for your couple, your flat share or your group of friends. It opens as quickly as it closes, in 2 minutes.
A real mobile shared account
The Lydia shared account is an account for two or more people to share for all occasions in life: couples, roommates or even holidays with friends.
Use your shared account to pay for shopping in the shops, your purchases and monthly subscriptions on the Internet and even your rent.
The Lydia Blue, Lydia Green and Lydia Black current accounts also allow you to withdraw money from ATMs around the world, free of charge.
Opening a Lydia shared account only takes 2 minutes, with no paperwork, right in the app. And it's free.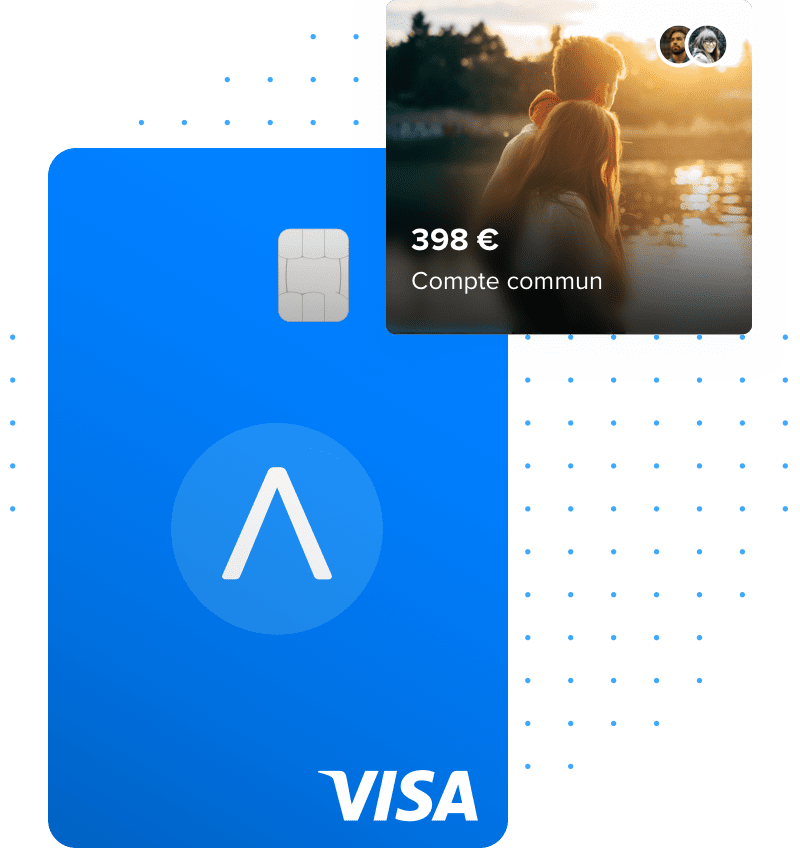 Easy to create, easy to manage
The amount, time and location of payments and withdrawals are recorded in the application and can be accessed at any time. You no longer lose track of what you spend or who spends it.
No matter what the reason, the account can be closed in an instant directly in the app, whenever you want.
The money in the joint account can be spent with all Lydia payment methods: the physical card, Internet cards and contactless mobile payment.
Finally, the joint account has a dedicated IBAN to easily manage all your transfers and direct debits.
Two to ten
Is your family, your flat share or your group of friends growing? With one click, invite a new participant and give them specific rights (spend, withdraw, view account balance).
You can remove participants and change their rights as easily as you added them.
Each beneficiary of the shared account can have their own debit card and use the money in the account independently.
With one click, the shared account is created. You can credit it immediately and share the cost of shopping or rent. The account will be valid for life.
By opening a shared account for a couple (the Duo account), both beneficiaries can order two uniquely designed Visa cards from Lydia, especially for the Duo account.
Every event has a shared account
For a couple
Stop burying yourself in paperwork.
Your shared account is set in a couple seconds. You can immediately start sharing your common expenses. Even better: your account doesn't have an expiration date.
For flatmates
Forget about late night calculations: your common subscription, bill, grocery and night out expenses are already evenly split.
You can add or delete members in just a tap, or even delete the shared account (in the case of the end of a flatshare).
For trips away with friends
Shared accounts are perfect to share reservations (plane tickets, Airbnb bookings) before the trip. You can also easily pay for groceries or nights out during your holidays.
Even better: with Lydia's means of payment, you'll never pay any exchange fee, wherever you are in the world.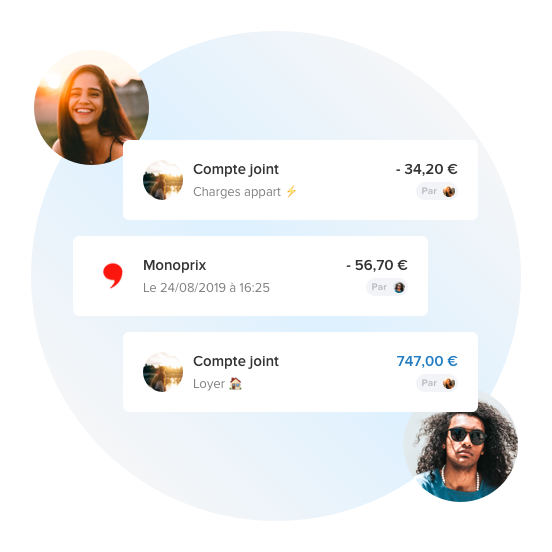 To read
Our greatest creation : shared accounts